The Whitsundays Are Back!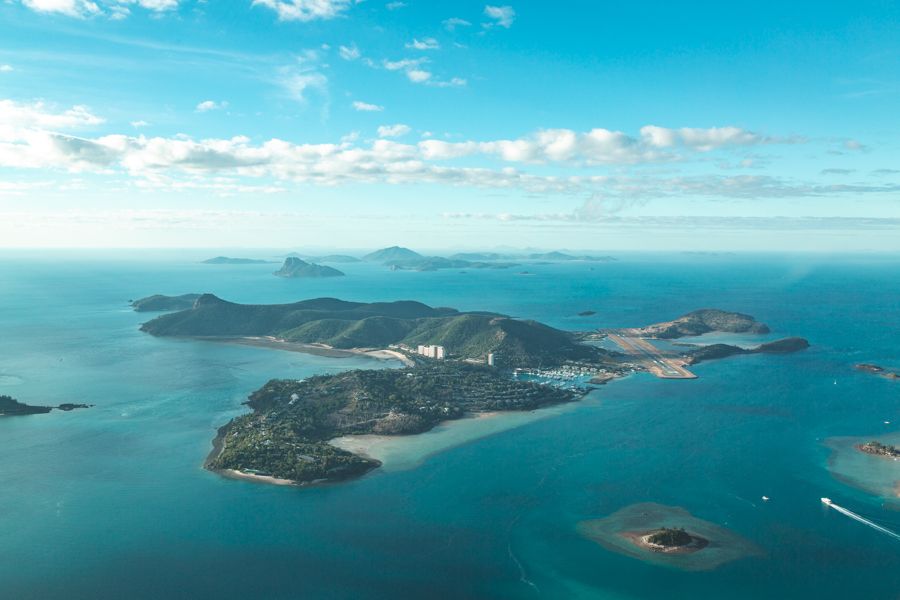 The Whitsunday Islands are back and better than ever, flourishing in the warm sun and welcoming travellers from all over the world. They have long since been a favourite among the global community and locals alike, and offer an oasis in the middle of paradise for anyone wanting to enjoy the island lifestyle! Many resorts, hotels and resort islands have recently been refurbished and now are bringing joy and happiness to all those who come to stay. If you want to come to the Whitsundays, then now is the time! Roaring full of life, it is a mecca for those wanting to explore the islands of Australia, offering a place for any type of traveller.
---
For the luxury seeker
Qualia, Hamilton Island
Qualia is one of the most exclusive resorts in the Whitsundays. It's situated on Hamilton Island and is a step above the rest, holding nothing back! It is said to be 'private world of sensory perfection' and stays true to its name, awakening all the senses. Qualia not only offers exclusive, private luxury accommodation but also has on-site spas, stellar service, world-class dining, luxury shops and more. It is a family run resort with a vision that captures the heart of the Whitsundays and makes each and every guest feel at home. The resort is found on the northern tip of Hamilton Island and hosts guests 16 and older, making it a luxury escape for those seeking solitude in paradise. It is the top choice for honeymooners who can look forward to romance in the Whitsunday at the exclusive qualia.
Hamilton Island Yacht Club Villas, Hamilton Island
Hamilton Island Yacht Club Villas offers a blend of accommodation types, catering for all travellers. From self-catered convenience to luxury stays, it is a perfect option for comfort seekers! Villas can sleep from 5 to 14 people, making it a great option for families and groups of friends travelling together! Each villa offers a unique space on the resort island, giving you the perfect place to relax and rewind while enjoying the beauty of the Whitsundays. All villa rentals include the use of paddleboards, kayaks, snorkel equipment, catamarans, and home essentials. Most villas also come with the use of your own golf buggy to drive around the island! There are 35 unique villas to pick from, giving you exactly what you want and need during your holiday escape.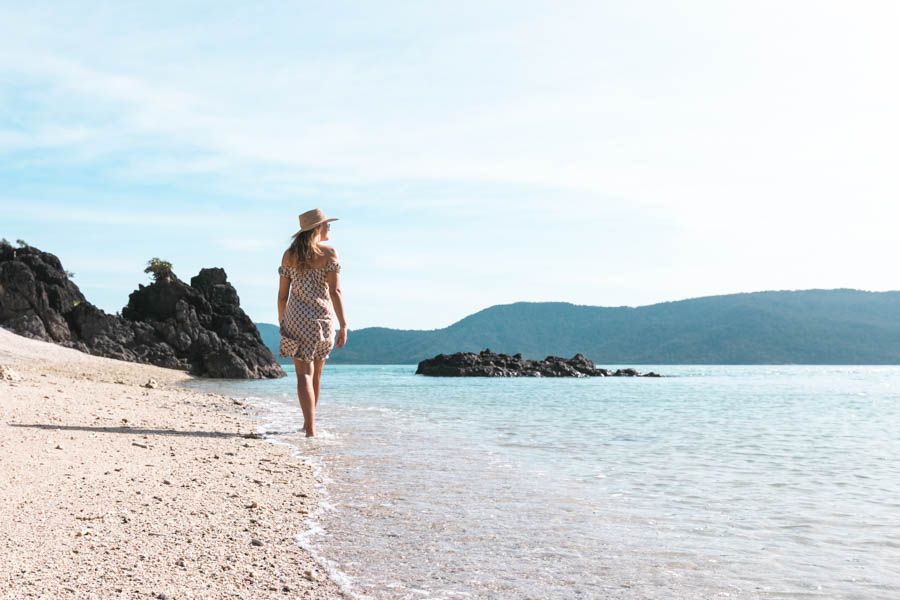 Elysian Retreat, Long Island
Elysian Retreat offers a place where people can disconnect from their daily lives and immerse themselves back into nature. It is an oasis found on Long Island and has recently been renovated and reopened under Sojourn Retreats and offers the best in a relaxed island experience. The retreat has beachfront bungalows, a day spa, an outdoor magnesium pool and a restaurant that offers 3 delicious meals a day designed around local ingredients. It is a tranquil seaside escape for those who want to distance themselves from their everyday lives and immerse themselves back into nature.
Daydream Island
Daydream Island is a picturesque resort island found close to the mainland in the Whitsundays. It has always been famously known for its living reef, oceanfront accommodation and beachside swimming pools. The resort, like many others in the Whitsundays, sustained damage during Cyclone Debbie and underwent extensive renovations following the storm. It is due to open again in April of 2019 and is said to be better than ever with new restaurants, renovated rooms and a larger, better living reef than before! Daydream Island appeals to families, day trippers and those looking for a tropical escape away from the crowds. The small island is surrounded by blue waters, stunning reefs and other tropical islands, making it the perfect escape for any island hopper.
Hayman Island
Hayman Island Resort was purchased by Intercontinental in 2018 where it began major renovations to bring new life to the Whitsundays icon. Hayman Island is known for its exclusivity and is a destination in itself, appealing to those who want the ultimate in comfort and luxury. It's more expensive than most resorts or accommodation in the Whitsundays - but totally worth every penny. This stunning resort offers anything and everything you would ever want during an island vacation. It has spas, beachfront accommodation, a kids club and is the perfect place from which to enjoy your luxury escape! From Hayman, you can look forward to poolside cocktails, amazing restaurants, great accommodation and so much more.
---
Unique in the Whitsundays
Freedom Shores, Airlie Beach
Freedom Shores is certainly one of the more unique places to stay in the Whitsundays. The boat-shaped accommodation is set in a hidden valley close to Airlie Beach, providing a tropical escape. This boutique accommodation offers a once-in-a-lifetime experience and an over-the-top nautical experience on land! There are several accommodation types available on site, with something for everyone. You can look forward to private patios, a resort pool, and even private gardens. Rent out 'The Denver' for an extra special experience and stay inside a real repurposed boat!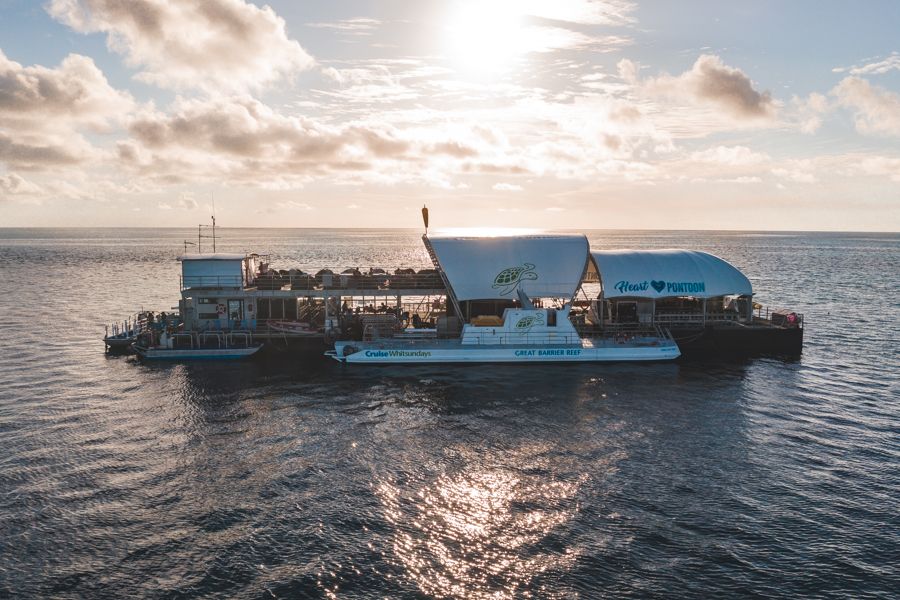 Reefsleep Pontoon, Hardy Reef
The Cruise Whitsundays Reefsleep Pontoon was one of the first places to get hit by the cyclone when it came through in March of 2017, but has since undergone renovations and is back in fine form and welcoming visitors from all over the world. Found 40 nautical miles offshore on Hardy Reef, Reefsleep offers one of the most unique accommodations in the Whitsundays. Overnight visitors stay right on the deck on the Great Barrier Reef for the night, enjoying the bright stars and sounds of the ocean! Those wanting a day trip experience can visit the pontoon on the Reefworld trip, which returns to the mainland for the night.
---
Down to Earth
Palm Bay Resort, Long Island
Palm Bay Resort is a place to 'relax, rejuvenate and escape' and offers unique self-catering accommodation and is the only one of its kind in the Whitsundays! Visitors to Palm Bay will have access to all the resort facilities including a day spa, beach pavilion and lounge space, media room, tennis court, nature walks and kayaks, but have to bring along all their own provisions, such as food and alcohol. This is a great option for those who want resort-style accommodation with the convenience of self-catering and enjoy cooking their own meals and travelling with independence! The Balinese inspired accommodation offers views of Whitsunday Passage and the Coral Sea, and with no wi-fi or TV, it's the perfect escape from the outside world.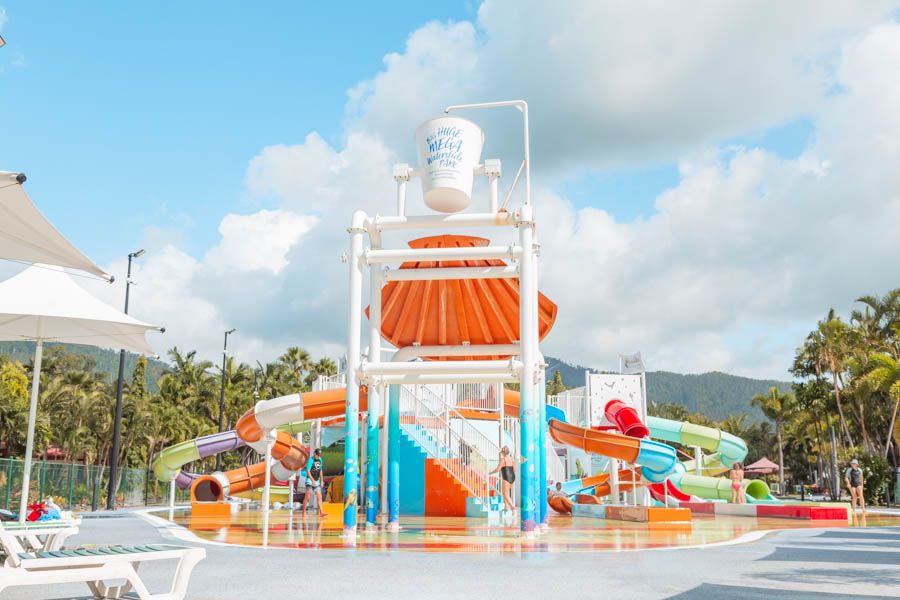 BIG4 Adventure Whitsunday Resort, Airlie Beach
BIG4 is the ultimate family escape in Airlie Beach. It has a 13 slide waterpark and range of quality accommodation types for any type of travelling group! Not just for kids, but also for the kid-at-heart, BIG4 offers the most childlike fun in the Whitsundays! It has condos, cottages and powered sites, making it ready for all types of travellers.
Affordable and welcoming
Reef View Hotel, Hamilton Island
If you're staying on Hamilton Island, Reef View Hotel offers affordable accommodation with unbeatable views of the island and surrounding ocean. The hotel is located right next to the beach and has large rooms with private balconies and is a favourite among travellers.
Mantra Club Croc, Airlie Beach
This Airlie Beach accommodation embraces the old with the new with its traditional Queenslander style design and been recently refurbished to make it better than ever. It has the traditional laid-back vibe the Whitsundays are known for with all the facilities and comforts of a world-class accommodation. It has several different accommodation types including Garden Deluxe Room, Garden Access Room, Coastal Interior Room, Pool Deluxe Room, Pool Access Room and Coastal View Room. The stunning swimming pool area will leave you feeling relaxed beneath the hot Whitsunday sun, where you can lounge in the comfy shaded beach chairs or take a refreshing dip.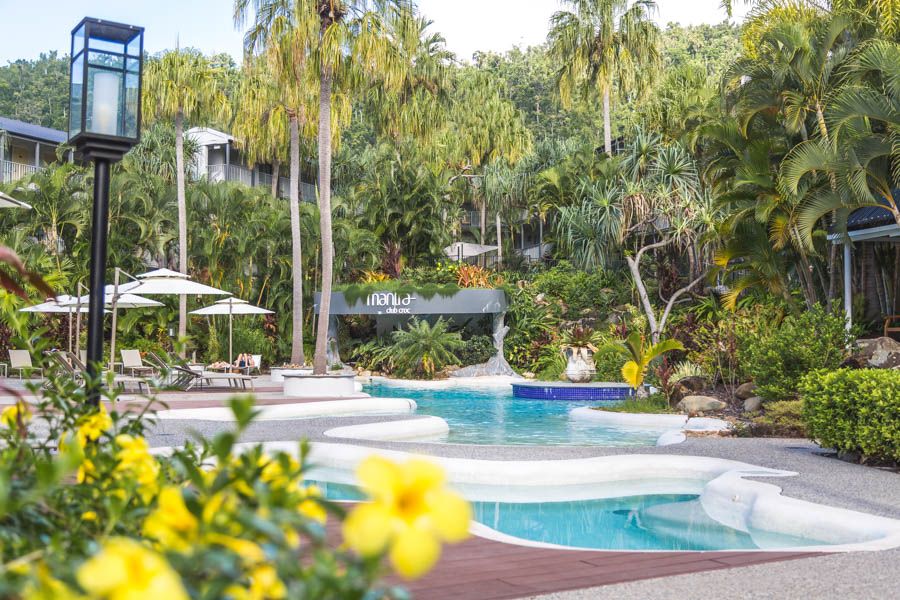 Palm Bungalows, Hamilton Island
Palm Bungalows have long been a staple on Hamilton Island. It was the first accommodation on Hamilton Island and boasts both garden and beach accommodation for those looking for a down-to-earth place to stay. It is set in lush gardens and has been recently refurbished, offering all the comforts of home. The coastal style rooms have kitchenettes, coffee making facilities, bar fridges and microwaves making it feel like a home away from home while you're living the island life!
---
In Airlie Beach
Heart Hotel, Airlie Beach
Heart Hotel and Gallery is one of the newer places to rest your head in Airlie Beach. It's found in the middle of the action on the main street of the seaside town, placing you in the perfect neighbourhood if you want to be immersed in the heart of things! The modern rooms offer the perfect base during your Whitsunday adventures - the hotel is surrounded by coffee shops, restaurants and just steps from your door you will find the welcoming pools of the famous Airlie Beach Lagoon. The hotel offers both village view and ocean view rooms, appealing to all the senses.
Coral Sea Resort
Coral Sea Resort is found on the waterfront of Airlie Beach next to Abell Point Marina. You can swim in an oceanside pool or dine at the amazing on-site restaurant, giving you the entire resort experience! Coral Sea Resort boasts views of the surrounding tranquil ocean, buzzing marina and lush forests along the coastline. The resort provides a relaxed atmosphere all while keeping you within close walking distance to all the fun of Airlie Beach; everything is only a few minutes' walk along the picturesque boardwalk. Coral Sea offers a nautical feel and luxury accommodation close to the heart of the action, with all the bonuses of a resort.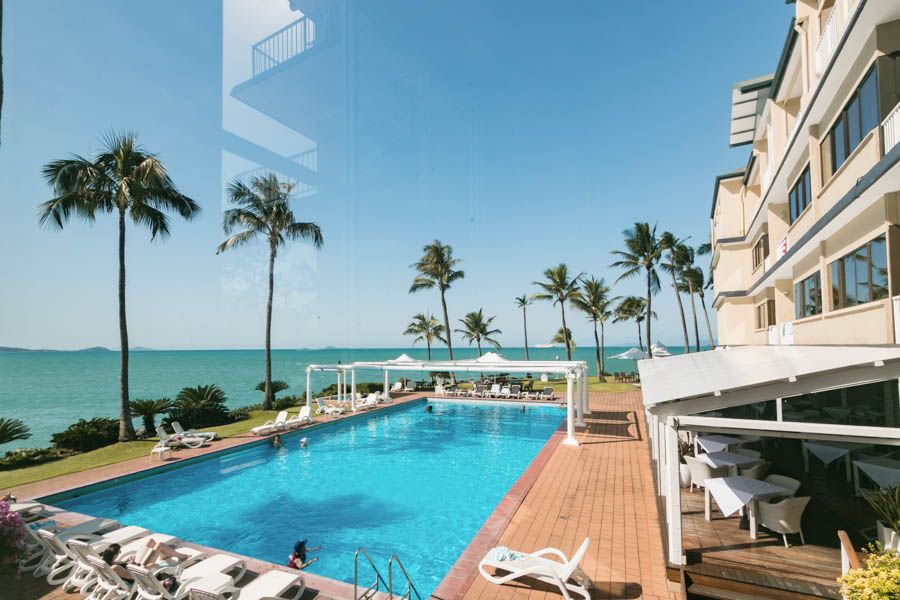 Mantra Boathouse Apartments, Airlie Beach
Mantra Boathouse Apartments offers apartment style accommodation at Port of Airlie Marina. It's the perfect place to relax during a stay in the Whitsundays - with 2 and 3 bedroom apartments, it's great for families or groups of people travelling together! Mantra Boathouse offers a pool and spa, kids club, sun-deck, tennis court, BBQ area and has secure parking. It's located next to the Airlie Esplanade and is near great restaurants, bars and shops!