Cedar Creek Falls, Proserpine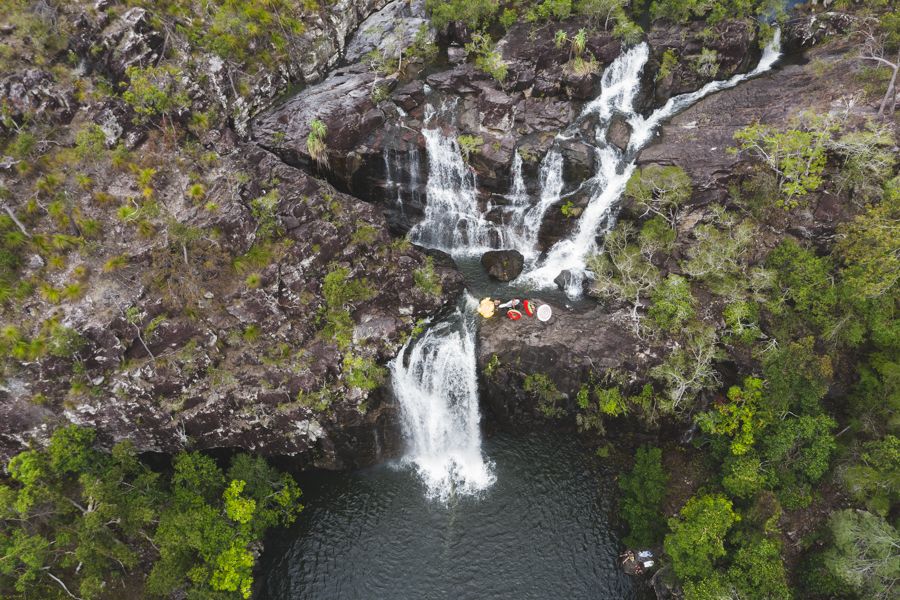 Located just a short drive from Airlie beach is one of the Whitsundays most beautiful safe swimming holes. A natural freshwater lagoon is surrounded by an amphitheatre of rock formations. Filling the large rock pool is a natural waterfall that runs all year round but is spectacular in the wet season. Cedar Creek is a popular spot to come and cool off in the crystal clear water and enjoy the serenity of the natural surroundings. The best months to view the falls is between December and April and even better if you are there a day or two after some heavy rain. The falls are truly spectacular after a good downpour, and you can swim right under the falls and enjoy the water cascading down. Even in the dry season the falls still pour lovely fresh clean mountain water into the lagoon below.
The falls are surrounded by lush tropical rainforest with strangler figs and towering cedar trees. When you visit the falls please don't be tempted to leap off of the very high ledges, which have a drop of almost 30 metres. Unfortunately, the falls have claimed the lives of several tourists and locals alike, despite having many warning signs posted. It's definitely not considered a badge of honour, and it's quite easy to climb the face of the wall instead and enjoy the 10 metre jump - even better to whip off a quick action shot! Much, much safer than the huge fall and crash impact when leaping off the very top.
Here at Mr Travel we all recommend a visit to the falls and a nice quiet swim in a truly beautiful surrounding. As the locals like to visit on the weekends we recommend you come to the falls midweek if possible. If you bring your camera and tripod near dusk, you can get some of those slow shoot aperture shots of cascading water!
Also if lucky at dusk the local population of Eastern Snake-neck turtles come to the shore edges to feed. They snack on worms, tadpoles, insects and small fish. Using their long necks they keep their heads close to the shell and the snap their necks to catch prey just like a snake. The animals are harmless but should not be handled as if picked up they excrete an awful smell from musk glands that are designed to ward off predators.
Looking for another angle of the falls? There are gorgeous views at the top of the falls, just short ten minute easy walk up a tree lined walkway - certainly worth the short hike!
You can learn more about this, and other hidden gems of the Whitsundays here.