Chinese in the Whitsundays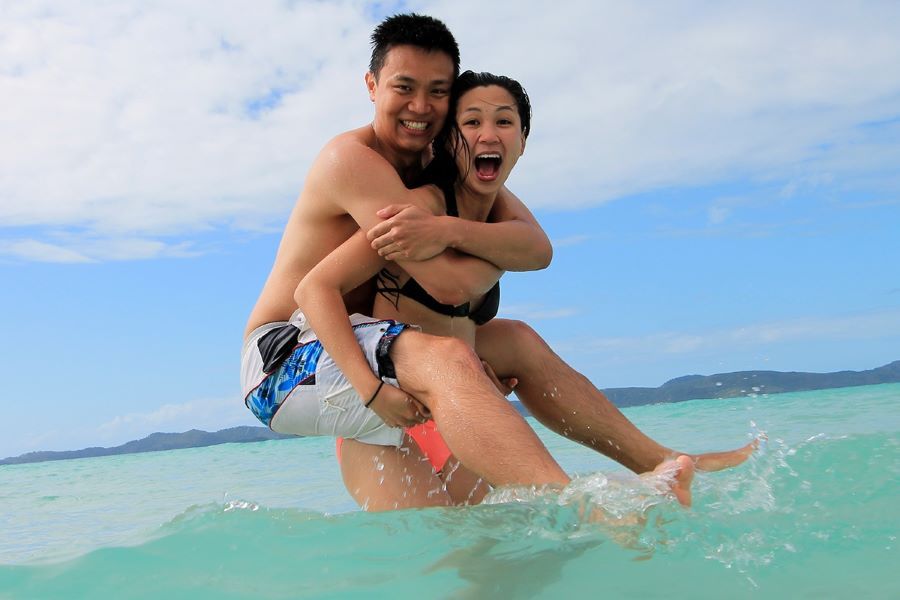 Statistics are showing that more and more Chinese travellers are choosing to make Australia their holiday destination of choice. As this thriving country continues to build on its super power status, it also seems to be producing more and more wealthy citizens. With this trend, the Whitsunday Islands have witnessed a large increase in the number of Chinese tourists. Always popular with locals and foreign tourists alike, the Whitsunday Islands are a chain of extraordinary tropical islands that offer a unique experience not to be found anywhere else in the world!

Here, at Sailing Whitsundays (the Whitsundays leading yacht booking agency), we do our best to guide all our clients towards the boats and packages best suited for their individual desires. We have done our own research to determine, which tours and activities are most favoured by Chinese visitors. We also have a Chinese interpreter on our team who speaks Cantonese and Mandarin.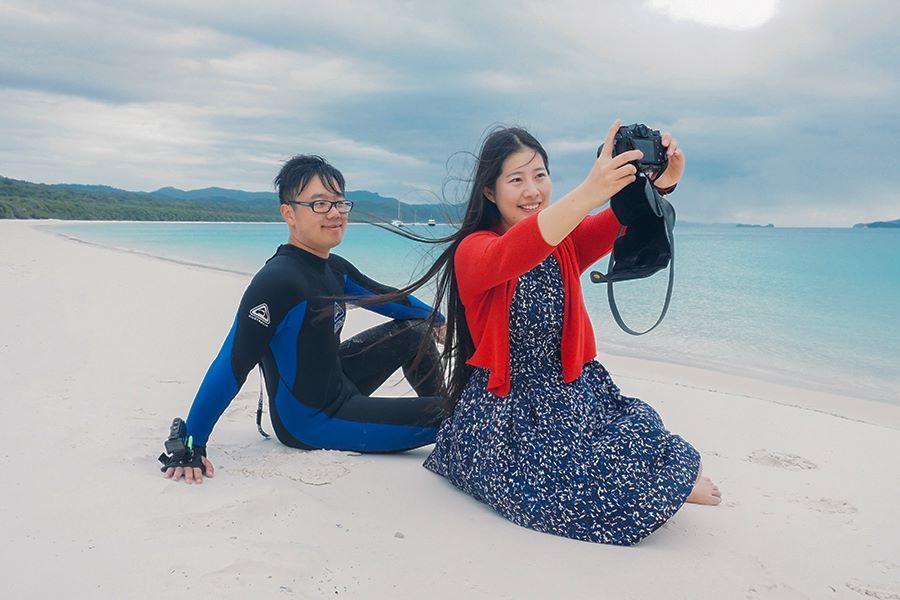 1. Heart Reef
Without a doubt, the most popular activity for Chinese tourists in the Whitsundays is to view Heart Reef from above. Only accessible by air, this wonderful icon of nature has a calming effect and provides the perfect romantic backdrop for couples.

You can easily combine this exciting tour with other day tours, reef visits, island visits, rain forest tours. Our experienced travel experts specialize in building packages to suit budgets and individual desires.

2. Scuba Diving
Also very popular among the Chinese community is trying out scuba diving for the first time. This unforgettable experience is best done on board an overnight vessel. To get the most thorough instruction, it is best to choose a vessel that has onboard diving; this means that the Dive Instructor and equipment is already on board with you and there from day one. Be aware that if a boat offers a rendezvous dive, you will have to go to another vessel to dive and it becomes a bit more complicated and is not always guaranteed.

Vessels that offer Onboard diving (a guaranteed dive experience):
Overnight Boats
Day Boats
3. Whitsunday Island Overnight Sailing
The third most popular choice of activity among the Chinese is to hop on board overnight sailing tour. More mature Chinese travellers will be very happy on boats like the new Blizzard or Iceberg with options such as Prima, Silent Night, Waltzing Matilda, Whitsunday Blue, Whitsunday Getaway and Eureka as being considerations. Passengers looking for a most stable sailing experience with minimum leaning over should consider boats like On Ice, Whitsunday Getaway and Solway Lass.

What food you will find on board Whitsunday boats?
No Australian tour is complete with traditional Australian cuisine! To see what a particular vessel serves, you should check out their Sailing Whitsundays page. Mostly, you will find traditional European continental breakfasts with build your own sandwich style lunches. Dinners often feature Australian delights such as barbequed meats, lasagna, and fresh salads. It makes sense to enjoy the local experience and try all the food on offer. Similar to the Chinese style, most the food on boats is served as a buffet/shared bowls, making it easy to go back for more if you are still hungry. If you are concerned about your suitability to the food served on board, most boats will allow you to bring personal snacks on with you.

Language difficulties
Onboard Whitsunday overnight boats, you will not find much in the way of interpreters or signs in Chinese. It makes sense to come prepared and practice some English and English words before you travel. You will get away with just the basic words or you can take a pocket translator. Some vessels use iPad translators and these can be a great help when needed. Boats like Cruise Whitsundays offer onboard interpreters, so this is a great option for guests who still want the full experience.

Is it safe to swim in the Whitsundays?
The answer is a big yes! You will be given a type of wet suit that can protect from coral scratches and sunburn and all boats carry floating noodles to help you stay afloat and enjoy the coral viewing. Lifejackets are always available for those who are uncomfortable with their swimming abilities. All boats provide snorkel instruction and most are willing to assist you as much or as little as you like. We know you will be amazed by the majesty of the very colourful fish and coral gardens.

Where is a good place to stay in Airlie Beach after our boat trip?
With so many accommodation options, it is in your best interest to contact our travel experts at Sailing Whitsundays so they can assist you in booking into the best suited hotel or resort. You can get dorm accommodation included with the tour booking if you are a really tight budget. For the best holiday experience, we suggest something with ocean views.

The Cheapest way to get to Airlie beach
Flying into Proserpine (Whitsunday Coast Airport) consistently shows to be the cheapest way of arriving in the Whitsundays. Jetstar usually offers the cheapest one way and return flights. From here, you are only a $20 shuttle transfer from the main Airlie Beach town centre.

Being an online travel agency, our staff have much experience in assisting travellers of all nationalities. Due to the influx of Chinese visitors, our professional experts have a great deal of knowledge as to what is most desired among this group. Contact us for more information.
BOOK WITH US TODAY! CALL (07) 4914 2425 IF LOCAL