Airlie Beach Sailing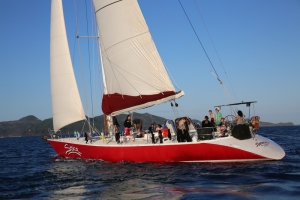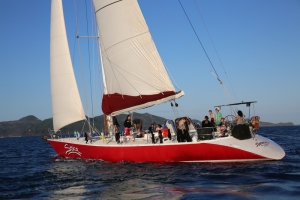 As the gateway to the beautiful Whitsunday Islands, positioned at the heart of the Whitsunday Coast, Airlie Beach offers the perfect base for those looking to explore all that the region has to offer, especially overnight sailing adventures.
Every year, hundreds of thousands of visitors make their way to Airlie Beach to experience an ultimate Airlie Beach sailing adventure, drawn in by the combination of crystal blue waters and lush tropical bush. With three marinas easily accessible from Airlie's main town centre, finding yourself a sailing excursion to explore the Whitsunday Islands could not be easier!
From Airlie Beach, Coral Sea Marina is just a 5-minute walk along the Bicentennial Boardwalk and is where the majority of sailing operators depart from. Not only that, you can find a reliable Tour Bookings Centre which can be found at the roundabout of the North Meeting Point... the perfect way to find an Airlie Beach Sailing Tour that suits your personal desires.
Launched in 2011, Port of Airlie also offers ferry services to select islands, with the main operator being tour and transport operator giant Cruise Whitsundays. This is where the main ferry service operates to and from the islands, along with the Greyhound and Premier Bus Terminal. Port of Airlie is located at the southern end of the main strip and is a mere 5 minute walk away.
Alternatively, Shute Harbour is a quiet and seldom used natural harbour located 20 minutes drive out of Airlie Beach. It is rare for tours to leave from here, but in bad weather it is known to happen. Please reconfirm your tours prior to travel to make sure you are the correct port.
Airlie Beach Sailing Options
There are a number of different Airlie Beach Sailing Adventures to choose from, ranging in price and style of accommodation. From a backpacker's ultimate party boat to luxury catamarans for honeymooners, there is bound to be a sailing adventure for you. The best way to get the full Whitsunday Islands experience is to embark on an overnight sailing tour. In Airlie Beach, you can be a passenger on-board a: luxury catamaran; power catamaran, tall ship, Maxi racing yacht, power yacht, or a traditional style sailing vessel.
Airlie Beach Sailing Races
Airlie Beach hosts a variety of weekly and annual, fun and competitive racing events. Every Wednesday evening between 3:00pm and 7:00pm, the Whitsundays Sailing Club organises Twilight Yacht Racing to showcase Airlie Beach's finest sailing and friendly rivalry. Held just outside of Abel Point Marina, this popular event draws spectators and sailors alike. An awards ceremony is held following event at the Whitsunday Sailing Club.
On an annual basis, Airlie Beach hosts the extravagant week long-yachting gala, Airlie Beach Race Week. Drawing sailors from all over Australia, this exciting series of races held between Airlie Beach and Hamilton Island is considered a world-class event. It is also regarded as the biggest sporting event to happen on the Airlie Beach Sailing calendar!