Whitsunday Trips for Couples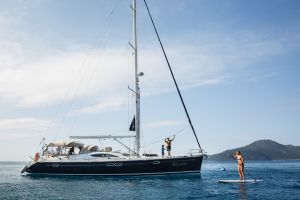 As one of the most romantic destinations in the world, the Whitsundays is the perfect place to reconnect and spoil your loved one. Whether you're honeymooning, reigniting that spark or making memories with a new partner, the Whitsundays has something for every kind of romancing!
Slow down with a hand-in-hand barefoot walk on the whitest sands in the world, bask in the luminous sun as it sets over the horizon and fall asleep to the gentle sounds of waves crashing against the hull in your partner's arms on a charming Whitsunday escape. The blissful, natural island beauty is bound to enchant and romance you!
To help you design the utterly perfect itinerary for your next romantic getaway, we've collated some of our favourite Whitsunday experiences that are bound to have those sparks flying. Plan the perfect charming boat trip, design a dreamy itinerary and check out the best romantic restaurants for candlelit wining and dining. From champagne sunsets to magical couple adventures, we've thought of everything that you need to make your next getaway seamless, enchanting and simply... romantic!
---
Romantic Boat Trips
It must be love, love, love aboard Whitsunday Getaway! With an intimate capacity of 8 guests, this stable, modern sailing catamaran is the perfect choice for a romantic escape. Boasting spacious, private cabins, a decadent menu and an adults-only guestlist, Getaway will enchant and spoil you and your loved one on a simply special experience. This sailing holiday is extremely popular amongst honeymooners and mini-breakers alike! Available for private charter, or a group 2-day, 2-night and 3-day 3-night sail, Getaway will sweep you up in island charm!

Let your worries drift away aboard Whitsunday Blue as you reconnect with your partner over a sunset bubbly! This private, charming vessel combines stability, comfort and island adventure and makes for a dreamy tropical escape. Treat your partner to a lounge on the spacious deck, try out a tandem standup paddleboard together and unwind under the stars out at sea aboard Blue! This adult-only experience is available for private charter, or a group 2-day, 2-night and 3-day 3-night sail. Blue will provide a quintessential Whitsunday experience, abound with a naturally romantic atmosphere!
Our newly-renovated Powerplay is a luxury catamaran that will take your breath away! Soak up that Whitsunday magic with your loved one in your arms as you sail the Islands in utter style. Take a dip in the on-deck spa with a cool beverage in hand as you gaze out at the lush marinescapes together. If you're after an experience that will enchant, relax and treat you, Powerplay is your literal love boat! Available for private charter, or a group 2-day, 2-night and 3-day 3-night trip, Powerplay will leave you starry-eyed and breathing in that salty island romance!



A stunningly unique and special getaway, Reefsleep offers the perfect setting for couples to experience the Great Barrier Reef like never before! Wrap yourselves in a blanket of stars in your luxury glamping swag, with a clear viewing panel above. Reconnect and let the island charm sweep you away as you embrace the stars, serenity and sea air! With a decadent menu and additional extras such as couples massages, Reefsleep is a magnificent way to experience the Great Barrier Reef with a side of authentic island allure.

This extended, 4-day, 3-night trip provides a stunning way to see the Whitsunday Islands as you and your loved one soak up an authentic sailing experience! Ideal for young couples (or couples who are young at heart!), Blizzard will sail you from one island paradise to the next with extra time for snorkelling and island traipsing! Hop on one of Blizzard's four-person stand-up paddleboards for a SUP experience like no other.



Calling all adventure couples, we've got the perfect day of excitement and stunning spots for you to explore! With options for both avid snorkellers of the Reef and island explorers, Ocean Rafting provides a magnificent day of Whitsunday adventure. Journey through to the hidden gems of Whitehaven Beach and Hill Inlet and let the wonder of paradise enchant you! This single-day tour will have your watch set to island time as you immerse yourself in the Whitsundays with your loved one!!



Entice will whisk you away on an adventurous yet serene island escape. With a capacity of 10 guests, you can enjoy the stunning Whitsunday marinescapes whilst relaxing with little luxury comforts. Watch the sun peer over the horizon for a romantic sunrise, before filling your days with snorkelling, kayaking and stand-up paddleboarding over some of the most flourishing fringing reefs in the world! Entice is available for a 2-day, 2-night experience or for private charter.

Intimacy, exclusivity and magical memories await you with a private charter experience. With a wide variety of our luxury catamarans available for private charter, you and your loved one can have some quality one-on-one time! Slow down and be the captain of your own journey together, as you let the enchantment of authentic sailing, soft sunset tones and island life entice you. Perfect for a special occasion, honeymoon or even proposal, private charters really do add that special and intimate element to your Whitsunday experience!
---
Dreamy Destinations
Whitehaven Beach
Known for its bright white silica sand, Whitehaven Beach is a seriously dreamy spot! Lounge in some of the world's softest sand, soak up the sun and explore the hidden wonders of the pristine Whitsunday Island with your significant other. The crystal-clear water is the perfect place to cool off, so take a dip as you bask in the magic of this tropical paradise!
Hill Inlet Lookout
Embark on a light bushwalk through the untouched, Whitsunday national park to reach the mesmerising views from Hill Inlet Lookout. Then, get ready to fall head over heels with the view, and your partner, as you gaze out at the ever-changing swirling sands and turquoise waters together. A delightful spot for a couple photo, you can immortalise your enchanting day in paradise amongst world-class wonders!
Heart Reef
The alluring charm is all in the name at this spot! A romantic must-do, Heart Reef is literally shaped like a heart! With an array of scenic flights available, you and your partner can soar above the clouds for an exciting day of romance in the sky. Look down at the kaleidoscopic reefs and lush islands, and keep an eye out for whales and dolphins while you're up there! Indeed, the spectacular Heart Reef is bound to pull at the heartstrings.



Hamilton Island
Whether you're honeymooning, or simply looking for some time to unwind and reconnect, Hamilton Island is a perfect choice! With the allure of tropical bliss and luxury at your doorstep, how can you resist? Relax and romance in style in a private, Hamilton Island Palm Bungalow, where island life and modern comforts combine to create an elegant and romantic experience!
Great Barrier Reef
Dive in and explore one of the seven wonders of the world with your loved one! Explore the flourishing corals, home to an array of colourful and wonderful tropical fish as you snorkel through pristine, glassy waters. Discover the astounding reefs alongside your partner, and keep your eyes peeled for sea turtles, manatees and the renowned Maori Wrasse! With an abundance of tours venturing out to thriving snorkelling spots daily, you'll be out amongst the Reef's natural wonders in no time!
---
Romantic Restaurants

With an array of taste sensations and decadent restaurant options in the Whitsundays, wining and dining with your partner has never come with more choice! With cuisines and beachfront establishments to cater to every couple, taste and budget, you'll be delighted by the delicious deals at your fingertips.
If you're after elegance, romance and exceptional food, check out our favourite spots for dining out with your partner here!
---
Our friendly team of local travel experts are here to help you design your perfect, personalised romantic Whitsunday holiday!
Call us on +61 7 4914 2425 or live chat with us today!