Airlie Beach nightlife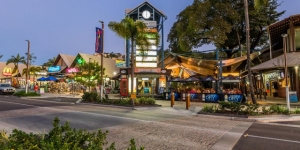 Airlie Beach is known for being a fun town. It is always full of backpackers and tourists having a good time on vacation, exploring the Whitsundays and the Great Barrier Reef. The nightlife is no exception - every night of the week feels like the weekend where you will always find people looking for a good time. There are so many great places to go for a night on the town. From clubs to pubs - there is something for everyone!
Most of the nightlife in Airlie Beach happens on the main strip of Airlie Beach. Bars like Mama Africa, Boom, Magnums Beaches, Paddy's and Shed Bar are always full of people and good music and can all be found on the main stretch of Airlie - all you need to do is follow the noise and the crowds! Other bars are a little more off the beaten track, such as Anchor Bar, which may be a little more hidden, but worth tracking down!
Mama Africa
Mama Africa is one of the late night clubs in Airlie Beach. It is where most people will end their night out, dancing well into the early hours of the morning! Different days of the week have different themes such as ladies night which is on Tuesdays, and there are often fun prizes to be won and fun games to be played!
Beaches
Beaches is located on the main strip of Airlie Beach, and is known for their food and drink specials, making it a great place to go for a beer and a bite! It's a great place to meet other travellers with a lot of after parties always going on after boat trips.
Paddy's Shenanigans
This popular Irish bar is a great place to go for live music, pints, and a good time. It's popular with both locals and travellers and has a great atmosphere, and is great for dancing and partying as well as hanging out and relaxing. They have live music every night, as well as signature drinks.
Magnums
Magnums is located in the heart of Airlie Beach and is the best place in town to enjoy a beer and watch the world go by. It has not one, but two bar areas in the beer garden. It's a great place to hang out, day or night!
Shed Bar
Open Friday to Sunday, this outdoor bar is a local favorite! Hang out by the pool, relax in hammocks, or play your friends in a game of pool while listening to live music or DJs play your favourite hits. It's a great place to meet other travellers with a lot of after parties always going on after boat trips.
Boatys
This is a popular bar to visit for a few drinks and a meal. It's located right at the beginning of the main street of Airlie Beach and its large patio makes it a great place to people watch!
The legal drinking age in Queensland is 18, with bars refusing entry to anyone under age or without a proper ID. You will usually get IDed if you look under the age of 25 and still must provide a valid ID.

Nightlife in Airlie Beach promises to be a good time - but as always, drink responsibly!