Whitsunday Island Resorts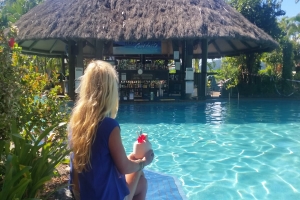 The Airlie Beach mainland is a great place to stay and play, but some visitors to the Whitsundays wants to take it a step further and head over to one of the region's tropical island resorts.
Whether you are travelling as a family, group of friends or a couple, you are sure to find a Whitsunday island resort which will ensure you have the holiday of a lifetime.
Hamilton Island
Possibly the most famous of them all is the world class holiday destination Hamilton Island. The island isn't just a resort, but is the home to some 1000 permanent residents. The island also features a world-class golf course, four-wheel drive course, wildlife park and bowling alley.
The island also has a number of fantastic choice of accommodation options for couples as well as families. And it is the home to the five-star Qualia resort.
Palm Bay Resort
Located on Long Island, this exclusive resort is made up of beautiful Balinese inspired villas with extensive views of the Whitsunday Passage and Coral Sea. For convenience, this resort is self-catering. Guests will have to supply their own food but will have access to a fully equipped guest kitchen.
The island also features a poolside dining area as well as a day spa, beach pavilion and lounge space, media room, tennis court, nature walks and kayaks. Palm Bay Resort are also able to organise activities and tours for their guests, such as reef snorkelling, fishing charters and water-sports adventures.