Airlie Beach: Party Nightlife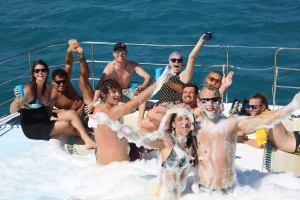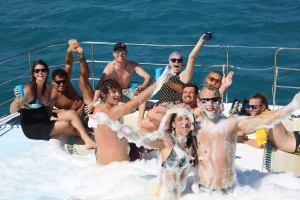 Airlie Beach has a lively nightlife with its bustling main street, colourful atmosphere and friendly locals. It is easy to see why the region is a backpacker mecca and the first choice holiday destination for people who enjoy socialising in a bar environment.
Consisting of one main street, Airlie Beach has been described as a similar town to Byron Bay, where most of its activity happens in one area. However, the special town of Airlie Beach is in a league of its own when it comes to the perfect combination of partying, socialising, relaxing and activities.
You will find everything you need on the main street of Airlie Beach, including the majority of it's bars. There is a number of different hostels, hotels and motels, a strip of restaurants and cafes, some great take away food options and of course a great variety of different pubs and nightclubs.
The street is almost always lively. At different times of the day you can find buskers, live music and open mic gigs, many of which will start in the day and run into the evening. On Saturday mornings, you can also check out the community market, which is hosted on the foreshore, where local goods and crafts can be bought. At night the entire street comes alive with live music, busy restaurants, beer gardens and groups of happy travellers and locals, all of whom come out to enjoy the nightlife of Airlie Beach. Bars in Airlie Beach include Mama Africa's, Boatys, Boom, Paddy's Shenanigans, Shed Bar and Breeze Bar.
The town also has some special features including a tuk-tuk service, aqua duck bus and amazing swimming lagoon on the main street overlooking the water that add a little something extra to the small town.
When visitors are soaking up the atmosphere of the main street, there is a huge variety of day and overnight sailing trips to choose from where you can get out and see the Whitsunday Islands.