Whitsunday scuba diving boats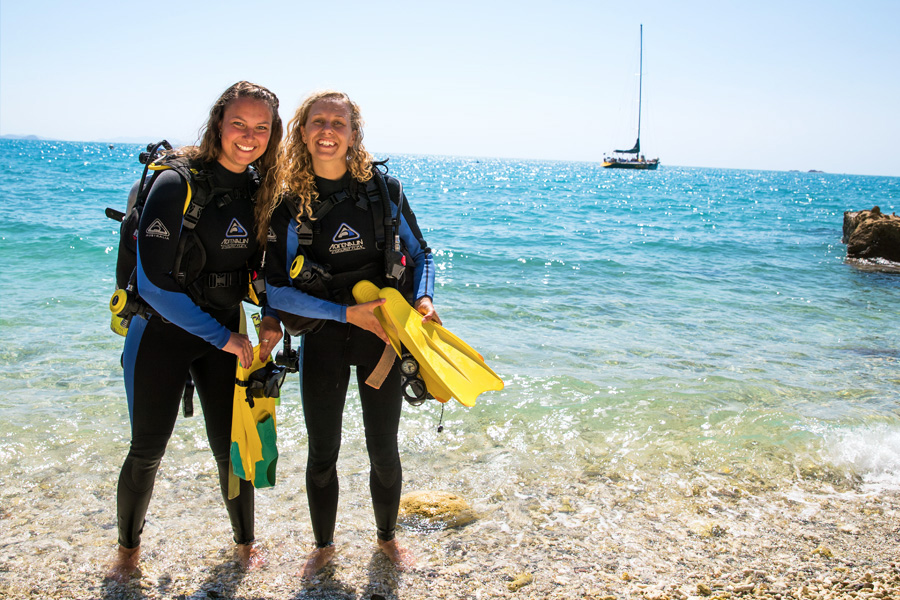 The Whitsundays are known for their beautiful islands, pristine waters and colourful corals, brimming full of marine life and unique species. They are the perfect place for enjoying time on the water and are often called a "boaties paradise" ideal for sailing, snorkelling, swimming and scuba diving. The 74 Whitsunday Islands are at the heart of the Great Barrier Reef, one of the most diverse environments in the world, home to thousands of species of coral and fish as well as hundreds of species of sharks and rays and dozens of types of whales and dolphins.
For adventurers who want to explore this diverse marine life in detail, there are several boats in the Whitsundays that offer onboard scuba diving - one of the best ways to explore the reef up close! There are both day dives and night dives, as well as Inner Reef and Outer Reef diving - each boat offers something different depending on your level of comfort and certification. All divers are subject to age, a medical questionnaire and terms and conditions.
Kiana
Kiana gives divers the chance to explore the Outer Great Barrier Reef on their 3 day, 2 night tour. They give introductory divers the chance to try scuba diving for free before they commit to a full dive, allowing them to feel comfortable before taking the plunge!
Atlantic Clipper
Atlantic Clipper is one of the most social tours in the Whitsundays, carrying up to 53 passengers at a time! Besides the bonus addition of both intro and certified diving, it also visits Whitehaven Beach and Hill Inlet Lookout and offers snorkelling and the use of its stand-up paddleboards!
New Horizon
New Horizon's 2 day, 2 night trip is a great way to enjoy scuba diving in the Whitsundays. Tour the island landscape from below the water and above for a truly unique experience! New Horizon also has the added bonus of a mega slide, stand-up paddle boards, jetboat rides and more!
Apollo
Apollo's 26 passenger tour will take guests around the Whitsunday Islands, giving you 3 days and 2 nights to explore and discover the beauty of the Great Barrier Reef Marine Park. They offer diving for both certified and introductory divers and give divers the chance to try their first dive free to assess their comfort levels and decide if scuba diving is right for them!

All dives are subject to age, a medical questionnaire and terms and conditions. All dives are subject to an extra cost, please check with each individual tour for pricing. Please check to ensure diving is available before booking a tour.