The top 5 Whitsunday Islands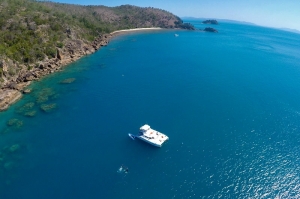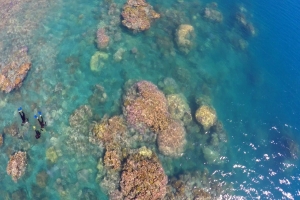 Hamilton Island
Hamilton Island is probably the most well known island in the Whitsundays, and is the largest inhabited island out of the 74 Whitsunday islands. It has six types of accommodation, from the infamous Qualia to holiday homes and bungalows and to be frank - is a perfect tropical oasis. You will probably know it for its sulfer crested cockatoos, poolside coconut cocktails, sailboats and palm trees, and more recently for visits from celebs like Taylor Swift, Leonardo DiCaprio and Avicii. It has its own commercial airport, as well as bars, restaurants and adjoining island with a fully functioning golf course. It is located about 27 kilometres away from Airlie Beach and is accessible from the mainland by passenger ferry or by flying direct onto the island.
---
Hayman Island
Hayman Island is the be-all, end-all of the Whitsundays. Definitely the most expensive and exclusive way to see the islands, Hayman is known for housing celebs like Mariah Carey, Chris Hemsworth and Elton John. It is the most northerly island in the Whitsundays, sitting about 28km off shore and is only 4 kilometres long and 3 kilometres wide and is the closest of the 74 islands to the outer reef.
---
Hook Island
While Hook Island might be one of the lesser known of the top five Whitsunday Islands, it is indirectly one of the most visited. Famous for it's diverse and beautiful fringing reefs, many of the overnight and day sailing tours beeline to Hook Island to snorkel and scuba dive in its many bays and coves, which are protected and perfect for enjoying the beautiful underwater gardens of the Great Barrier Reef. It is home to Luncheon Bay, Manta Ray Bay and Nara Inlet, and hosts an array of historically relevant places, including caves which have ancient rock wall painting created by the Ngaro people.
---
Daydream Island
Daydream Island is located only 5 kilometres off the mainland, and is known for being family friendly with a day spa and outdoor aquarium. It's ideal for day trips with a 30 minute transfer by passenger ferry, and is great for swimming, snorkelling, canoeing, and sailing hobie cats. It also has different types of accommodation and packages, perfect for an easy weekend escape.
---
Whitsunday Island
Whitsunday Island is the biggest island in the Whitsunday Island group and home to the famous Whitehaven Beach and Hill Inlet Lookout. While it doesn't have a resort or any amenities aside from toilets, it is visited by millions of tourists every year see the beach and the lookout and enjoy the silky silica sands. Accessible directly by the beach or by Tongue Bay, there is a short bushwalk up to Hill Inlet Lookout and a short walk down over the hill to Whitehaven Beach. It has both north and south Whitehaven, which are accessible by foot depending on the tides. It is easily one of the most famous beaches in the world, and ranks in the top 3 places visited in Australia.