Why you should choose Whitsunday Bullet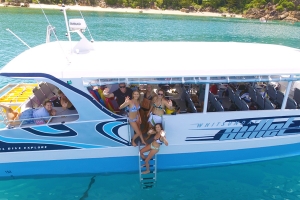 Whitsunday Bullet is the newest boat in the Whitsundays and offers an amazing day trip around the islands.
Bullet offers a packed day, where guests will get to snorkel, visit Whitehaven Beach (north and south), Hill Inlet Lookout and have the opportunity to stand-up paddle board at the southern end of Whitehaven Beach. It is the only fast day catamaran that offers stand-up paddle boards, meaning it's ideal for those who want a little more adventure in their day but also want the stability and speed of a catamaran.
The itinerary is designed so you can get the most out of your day, with an early start and a full day. You will head out right away to explore the Whitsunday Islands. Your first stops will be Hill Inlet Lookout and Whitehaven Beach, one of the most famous beaches in the world. Here you will get to see the view from the lookout of Hill Inlet and spend some time at the northern end of the beach before visiting South Whitehaven. Afterwards you will zoom over to your snorkel site for the day at Hayman Island, Hook Island or Border Island. Here you will get up close with the beautiful fringing reefs of the Great Barrier Reef and get to see the colourful fish and amazing coral formations below. Guests also have the option to relax on the beach if they want more of a leisurely day, taking time to enjoy the sun and the sand.
After your full day, you will head back to shore, aiming to get back to Airlie Beach for 5.00pm. The ride home faces the setting sun, meaning even on the ride back you'll have an amazing view and be able to get some awesome pictures to end your day.
Whitsunday Bullet is the perfect fast paced day trip for someone who wants to do it all while in the Whitsundays. As the only fast cat that offers stand-up paddle boards, it's the best option for those who want to make the most out of their day!