Group Sailing in the Whitsundays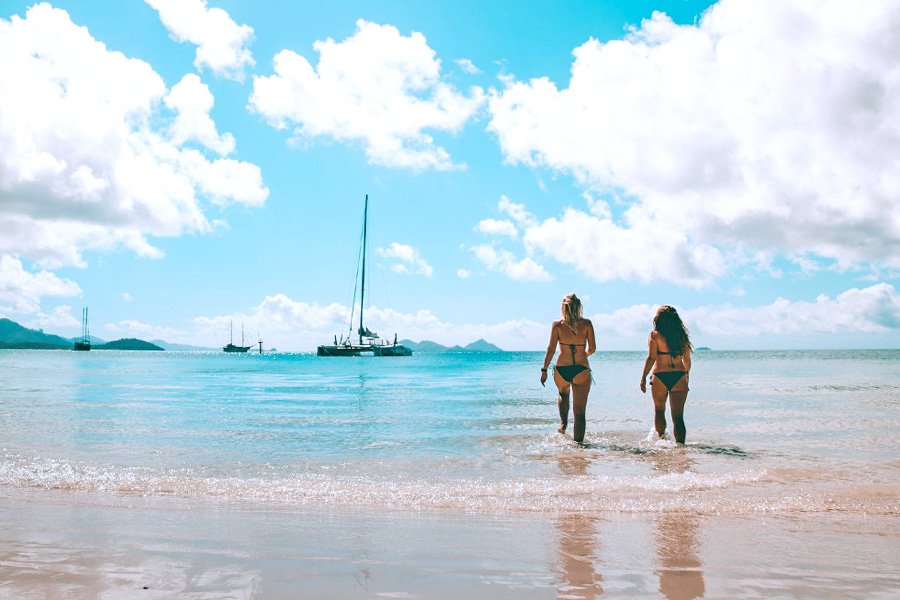 There are many ways to enjoy the Whitsundays if you're coming in a group and want to explore this beautiful part of the world. There are options to join in on an overnight sailing tour, day tour, skydiving, bareboating and much more. With the Whitsundays at your fingertips, you have the freedom and ability to do what you want, exactly how you want!
If you are coming to the Whitsundays and would like to sail, there are three options available to you; bareboating, overnight sailing or day sailing.
Bareboating is when you rent a boat and skipper it yourself with no crew on board. This is a great option for groups with sailing experience, or even experience at sea. It allows for an extended tour (most begin with a 5 night minimum) that allows you the freedom to plan and execute your own trip, just the way you'd like. Boats typically allow anywhere from 4 and 10 guests at a time, where you supply your own food, snacks and beverages. You take care of everything during your trip since there is no skipper or crew to cater to you.
Overnight sailing is a great option for groups wanting to sail in the Whitsundays. With this option, you can either choose to join in on a chartered tour or you can choose to book a private charter, where you have the whole boat to yourselves. All chartered overnight sailing options come with captain and crew, who are there to tend to your needs as well as cook and clean for you. This is an ideal option if you have a large group of people since overnight sailing tours tend of be able to accommodate larger numbers than bareboats (some boats take up to 50 people at a time!). You will also have the security and comfort of having a skipper and crew to look after you and make sure everything goes smoothly. This means you will have all the time to relax and enjoy the Whitsundays in the company of your group.
Day sailing is also a great option for those who are coming to the Whitsundays with a group and want to explore the beauty of the islands. Groups can choose to privately charter a tour or join on a regular day trip, depending on how they want to spend their day. Much like overnight sailing tours, you will have a captain and crew to take care of you and ensure everything goes smoothly while you enjoy your day on the water. Day tours are shorter and much more compact than overnight sailing tours and are ideal for groups that are short on time.
If you do decide to book a private charter for an overnight or day sailing trip, it's important to book as far in advance as you can to ensure you can secure your charter.
All boats, private charter or not, tend to book up quickly, especially if you're travelling with a larger group, so the sooner you can book any tour, the more likely you are to secure your spots.
---
Ask us about the right option for your group so you can enjoy the beauty and magnificence of the Whitsundays!
Live chat with a local team member or call us on +61 7 4914 2425 today!