Limited time airport shuttle offer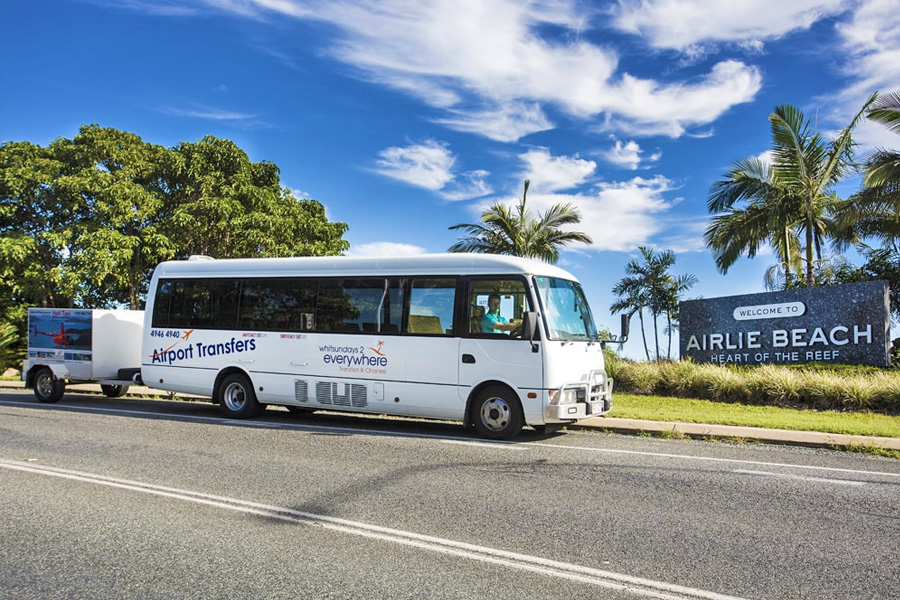 For a limited time we are offering free return airport shuttles to the Whitsunday Coast Airport for every overnight tour purchase with Sailing-Whitsundays! This will help you enjoy a worry-free trip to the Whitsundays, with everything taken care of door-to-door! This will allow you to arrive in the Whitsundays where a ride will be waiting for you so you can make your way to your accommodation with ease. From here you will join your overnight tour to explore the Whitsunday Islands, getting to snorkel, swim, scuba dive or visit Whitehaven Beach and Hill Inlet Lookout!
With many different tour types on offer, there is something for each and every type of traveller.
Catamaran: Overnight catamaran tours are one of the best ways to experience the Whitsundays. Most have low numbers, offering a private and exclusive tour of the Whitsundays, while some offer on land accommodation or the opportunity to sleep under the stars - there is a catamaran for everyone! Fall in love with the Whitsundays from on board a comfortable and fast catamaran - ask us which one is right for you.
Backpacker: We offer many backpacker tours, where guests can experience all the best of the Whitsundays while sticking to a budget. Backpacker tours are also a great place to meet fellow travellers, with plenty of people on board to socialise with! Each tour offers the option to snorkel as well as a visit to Whitehaven Beach and Hill Inlet Lookout, sometimes with additional extras such as stand-up paddleboards, scuba diving, waterslides and more! Ideal for those aged 18-35.
Outer Great Barrier Reef: Make your way to the Outer Great Barrier Reef with tours that go beyond the islands to the outer reaches of the Great Barrier Reef Marine Park. From here you can snorkel and scuba dive to see the diverse marine life that lies below!
Scuba Diving: We have several tours that offer onboard scuba diving to cater to avid scuba divers during their time in the Whitsundays. With all of your equipment on board, guests will be able to make the most of their tour and get in as much diving as they can. Tours are available for both certified and introductory divers.
Short on time: If you only have a night or two in the Whitsundays, Sailing-Whitsundays offers plenty of 1 night tours that will still give you plenty of time for exploring. One night tours will still allow guests to thoroughly experience the Whitsundays, with snorkelling, Whitehaven Beach and Hill Inlet Lookout on the agenda. Just because you're short on time, does not mean you will be short on fun! Ask us about one night tours.
This limited time special is applicable to all overnight tours. Check out the many amazing tours that we have on offer! Ask us about which overnight tour is right for you and take advantage of this amazing limited time offer.
*Please note this offer is no longer availabile.