Atlantic Clipper
CLOSE
View More Thumbnails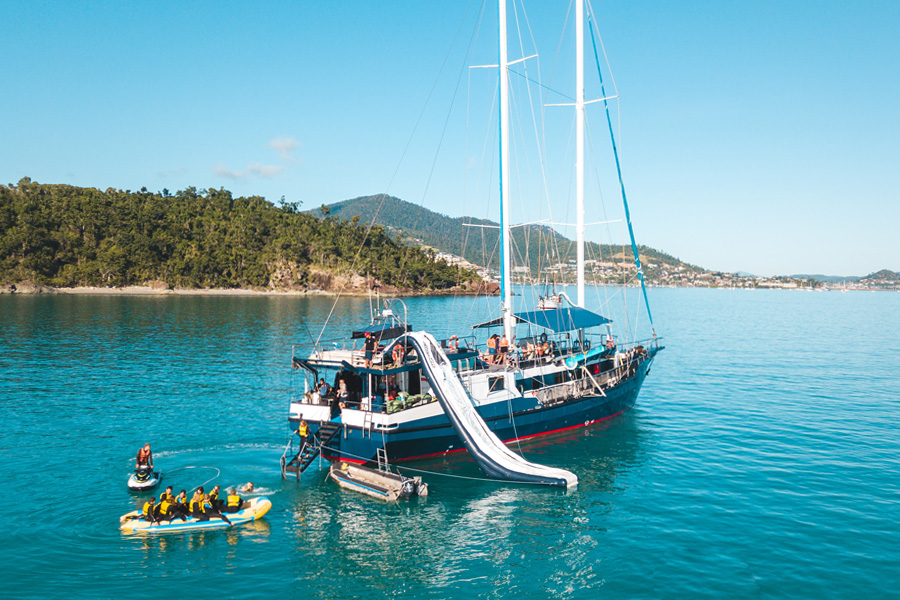 Loading...
Departure Times
Departs: 11:45am - 2:15pm - Please Enquire
Returns: 12:00pm - Please Enquire
Pricing Options
$399 AUD per Person
- Shared Accom
(Between: 01 Jul 2021 and 31 Mar 2022)
$459 AUD per person
- Private Twin Cabin (Requires 2 People) ($918 Total)
(Between: 01 Apr 2021 and 31 Mar 2022)
$459 AUD per person
- Private Double Cabin (Requires 2 People) ($918 Total)
(Between: 01 Apr 2021 and 31 Mar 2022)
The biggest, baddest boat in The Whitsundays, check out why everyone is talking about "The Clipper!"
Atlantic Clipper is an urban legend up and down The East Coast of Australia - but just why is it the most popular backpacker boat in The Whitsundays?
Is it the spa and waterslide? Maybe. Is it the dashing crew? Perhaps! Find out for yourself on this two day/two night sailing trip – ask us on LiveChat right now for our super special rate!
Atlantic Clipper is a hit for travellers between 18-35, and sometimes even the occasional "young at heart" passenger. If you are not a social butterfly and would like a quieter trip, this is not the boat trip for you – as nightly group activities and an social nights are encouraged! Built in England in the early 1980's, Clipper originally operated trips between London and the Caribbean. An extensive refit to carry passengers got underway and eventually she made her way to Australian waters, venturing into the charter market. Clipper has gone on to be the "wild child" and pride and joy of True Blue Sailing, operating three overnight sailing tours every week in The Whitsunday Islands. This is a boat that is easily recognisable, and has often been the topic of conversation in many a hostel further south – "Ohhhh, you did The Clipper!? Me too!"

This monster vessel is a whopping 140ft and carries up to 53 guests per trip over three levels. It actually has the most space per person per square metre than any other boat in our region, with cabins sleeping a maximum of four people per room. Each room and the saloon is also air conditioned, so there is no sweltering for anyone on the lower levels! Clipper also features eight hot and cold showers, six separate toilets, an eight metre water slide, and a spa which fits up to twelve people - so there is plenty of room for everyone on board!

Clipper departs Tuesday, Thursday and Saturday at 1:00pm (varying slightly depending on tides) and returning at 11:30am (also may vary) on Thursdays, Saturdays and Mondays.
Inclusions on this vessel:
All marine park fees and taxes
All meals including breakfast, lunch, dinner and snacks
Non-alcoholic beverages
All snorkelling equipment and wetsuits/stinger suits
A hands on sailing experience
All bed linen and blankets
Use of the heated spa
Use of the eight metre water slide
Accommodation Options:
Share single bunk (dorm style)
Share double bunk (dorm style, twin share)
Private twin cabin (twin share, two single beds)
Private double cabin (twin share, one double bed)
Quad share cabin (please request this at time of booking, sole use four people)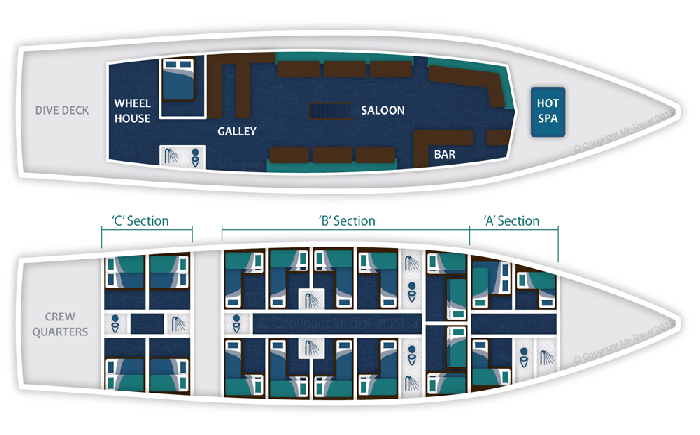 Scuba Diving:
Atlantic Clipper has two diving instructors on every trip along with complete sets of dive gear – so no need to meet with another vessel for a rendevouz dive! This activity is available to first timers or certified divers. All can be booked and paid for directly on board Atlantic Clipper, and rates are as following:
SAMPLE MENU
Breakfast
Tea and coffee
Selection of breads
Selection of honey, jam marmalade, vegemite and peanut butter
Tropical fresh fruit platters
Toasted muesli, cornflakes
Lunches
Selection of cold meats
Salads
Homemade pesto pasta salad
Tuna and sweet corn salad
Selection of cheeses and crackers
Fresh baked crusty rolls and wraps
Dinner - Day One
Oven baked hake served with herb and lemon dressing on a bed of creamy mashed potatoes
Homemade crunchy coleslaw
Fresh Aussie damper and rolls
Dinner - Day Two
Papa Steve's famous Spaghetti Bolognaise, cheese and a crunchy salad
Freshly made garlic bread
Snacks
Aussie hot dogs with cheddar cheese and onions
Chips, dips and cheeses
Please this is a sample of menu and is subject to change and amendments. Dietary requirements can be accommodated if we are notified at the time of booking.

Are you bold and brave enough for Atlantic Clipper? This boat fills weeks in advance, so contact us on 07 4914 2425 to check availability and get the latest rates!
What To Bring
Please only bring a small soft overnight bag without any zippers (ie. a re-usable shopping). A zipless souvenir bag can be purchased at the boat's check-in office for a few dollars. Ensure you pack clothes, a hat, swim-wear, towel, sunscreen 30+, warm pullover for the evenings (seasonal) and cash/card for onboard purchases. Feel free to bring on board a reusable water bottle and/or additional snacks. You will also need to bring your own alcoholic beverages, available for purchase in town. No glass bottles, please.
Excess luggage can be stored at several places in town including most boat check-in offices, most hostels, or at your accommodation. Most charge between $5-10pp for the duration of your trip.
What's Included
Skipper
Crew
Drinking water
Meals
Linen
Wetsuit hire and snorkelling equipment
Marine Park fees
What's Extra
BYO alcohol (no glass or red wine)
Soft drinks
Jet boat rides*
Banana boat rides*
Scuba diving*
*Water sports such as scuba diving, jet boat rides and banana boat rides are bonus activities. It is important to note these optional activities are not guaranteed and are subject to factors including weather, availability and Covid-19 restrictions.
---
Jet & Banana Boat Rides:
Jet boat rides and banana boat rides can be purchased. These optional extras can be decided on and paid for on board.
Jet boat ride is $35pp
Banana boat ride is $20pp
Pricing is subject to change, the above is to be used as a guideline only.
---
Scuba Diving:
Atlantic Clipper offers onboard scuba diving for both certified divers and those without experience/qualification. Scuba dives MUST be pre-booked, but are paid for on board.
Scuba dive is $75pp - MUST be pre-booked.
Pricing is subject to change, the above is to be used as a guideline only. Your safety in the water is our primary concern. To ensure your comfort and safety divers must be 18 years or over and they will require that you have a Divers Medical Certificate for certain medical conditions.
---
Dive Medical Certificate:
Your safety in the water is our primary concern. Please read through the following information carefully to determine whether you require a Dive Medical Certificate (at own cost).
If you are aged 45 and over and you would like to participate in an Introductory Scuba Dive you will be required to present a Dive Medical Certificate onboard. This does not apply for certified divers.
Please read the following questions carefully:
Do you currently have an ear infection?
Do you have a history of ear disease, hearing loss or problems with balance?
Do you have a history of ear or sinus surgery?
Are you currently suffering from a cold, congestion, sinusitis or bronchitis?
Do you have a history of respiratory problems, severe attack of hayfever or allergies, or lung disease?
Have you had a collapsed lung (pneumothorax) or history of chest surgery?
Do you have active asthma or history of asthma, emphysema or tuberculosis?
Are you currently taking medication that carries a warning about any impairment of your physical or mental abilities?
Do you have behavioural health problems or a nervous system disorder?
Are you or could you be pregnant?
Do you have a history of colostomy?
Do you have a history of heart disease or heart attack, heart surgery or blood vessel surgery?
Do you have a history of high blood pressure, angina, or take medication to control blood pressure?
Are you over 45 and have a family history of heart attack or stroke?
Do you have a history of bleeding or other blood disorders?
Do you have a history of diabetes?
Do you have a history of seizures, blackouts or fainting, convulsions or epilepsy or take medications to prevent them?
Do you have a history of back, arm or leg problems following an injury, fracture or surgery?
Do you have a history of fear of closed or open spaces or panic attacks (claustrophobia or agoraphobia)?
If you answered YES to any of the above questions, you are required to obtain and present a current (issued within the past 12 months) Divers Medical Certificate before you can scuba dive.
Please click here for a list of doctors who can provide this service.
Terms and Conditions
---
Important Information:
Atlantic Clipper departs between 11:45pm & 2:15pm depending on the tide.
Water sports such as scuba diving, jet boat rides and banana boat rides are bonus activities. It is important to note these activities are not guaranteed and are subject to factors including weather, availability and Covid-19 restrictions.
---
Your Responsibilities:
Please advise us before booking if any passengers are under 18 years old to ensure this is the appropriate trip.
You must reconfirm all booked tours prior to travel as specified on your voucher. If applicable, notes such as dietary requirements, pick-up locations and additional fees should also be confirmed at this time. Reconfirmations cannot be actioned through Sailing Whitsundays/Mr Travel, and must be done so directly through the Service Operator as specified on each ticket.
It is your responsibility to notify us of ticket discrepancies. Please read through the details on your voucher thoroughly to ensure all details such as passenger names, ages and dates of travel on vouchers are correct.
It is the responsibility of all passengers travelling to advise both your travel agent at the time of booking and vessel check-in agent before boarding of any medical conditions including food allergies you may suffer from.
You need to allow adequate time to check-in prior to the specified departure time.
---
Prices/Extra Costs:
All prices are stated in Australian dollars and include GST. The Service Operator reserves the right to alter prices and extra costs. Extra costs may include EMC fees, Stingersuit/Wetsuit Hire, Luggage Storage, Insurance, Linen Hire, National Park Fees, Fuel Levies, Dietary Fees, etc. Bonds may also apply.
A $40 per person Public Holiday Surcharge is applicable to tours where the vessel is at sea on Christmas Day or New Years Day.
We will also endeavour to communicate these extra costs with you at the time of booking, and on your ticket. However, it is your responsibility to confirm which (if any) additional costs apply with each Service Operator upon reconfirming your trip.
---
Travel Risk/Insurance:
It should be noted that adventure travel involves risk. Whilst we make every effort to safeguard clients, we cannot be responsible for personal injury or loss due to the actions of our clients which are beyond our control. We highly recommend that all clients have travel insurance covering illness, injury, loss or damage to personal belongings and not being able to travel on the confirmed date of departure. You should also ensure your travel insurance will cover special circumstances including weather events preventing guests from travelling to their tour departure destination and cancelled flights due to unforeseen circumstances.
---
Merchant Fees:
Please be aware operators pass on credit card merchant fees so there is a non-refundable 1% surcharge for VISA and MASTERCARD card purchases.
---
Other:
Terms and Conditions (including the Cancellation Policy) are subject to change. The most recent versions can be found online on the relevant product pages.
All ticket/voucher reissues attract a $20 administration fee.
---
Cancellations
---
Client Cancellations:
All cancellations forfeit 25% of the recommended retail price (RRP) - not the discounted/sale price. Cancellations made 60-30 days prior to travel date forfeit 50% of the RRP. No shows or client cancellations made within 30 days of departure forfeit 100% of the total ticket price.
Transfers between tours can be made at the suppliers discretion, however, it should be noted that supplier fees may apply. Tour transfers also incur a $20 administration fee. A $40 per person transfer fee applies to all name or date changes.
It is compulsory that all cancellation requests are in writing and sent via email to admin@mr-travel.com. Cancellations attempted via online chat or phone will not be actioned.
---
Supplier Cancellations:
The Service Operator reserves the right to alter prices, alter itineraries, apply a fuel surcharge, cancel departures, arrange alternative transport and vary itineraries and services if necessary.
All departures and itineraries are subject to weather. Tours may be changed or cancelled for any reason at the discretion of the Service Operator. If the Service Operator has to cancel the trip or activity (prior to departure) and we cannot offer a suitable alternative, then a refund will be given minus a 20% administration fee and any associated card fees. We strongly recommend that you have travel insurance, especially during the wet season.
In the unlikely event of your trip being cancelled or stood down, all guest communication is required to go through our Online Store via telephone or email. While there is a Sailing Whitsundays retail outlet located Airlie Beach, please be aware that they operate as a separate entity and are unable to access reservations made by the Mr Travel online department.
---
Refunds:
All refunds are in Australian Dollars and must be made to the card of payment. Sailing Whitsundays/Mr Travel is not liable for exchange rate fluctuations or fees, or any other merchant/bank fees associated with domestic and/or international transactions.
Where a full refund is applicable, there is the option to transfer the whole cost of the tour to another tour or "Credit" to avoid the administration fee. A transfer fee of $20 will apply.
You will be emailed confirmation once the refund has been processed. Once the refund has been processed, it may still take time for the banks to clear the amount. Please allow 7-10 business days for the funds to clear into Australian accounts and up to 21 business days for international accounts.
---
Accountability/Misconduct:
All Service Operators have the right to provide client feedback and to cancel bookings based off of feedback from other Service Operators.
Please enjoy your travel experience in a kind and responsible manner.
Sailing Whitsundays/Mr Travel will treat this as any normal client cancellation and therefore the cancellation fees stated in the Client Cancellation Policy will apply.
---
Thank you for booking with our East-Coast travel experts here at Mr Travel/Sailing Whitsundays. If you would like any further advice, assistance in arranging accommodation, transfers or additional tours please get in touch.
---