Trek North 1 Day Kuranda Train & Skyrail
Departure Times
Departs: 8:15AM to 3:15PM - Daily
Returns: - Daily
Pricing Options
$65 AUD per Person
- Child (3 - 14 years)
(Between: 31 Mar 2018 and 30 Mar 2019)
$129 AUD per Person
- Adult
(Between: 31 Mar 2018 and 30 Mar 2019)
This exciting Skyrail Rainforest Cableway experience spans 7.5kms over Australia's pristine tropical rainforests, making every moment unforgettable!
On the Skyrail Rainforest Cableway Experience you'll glide just metres above the spectacular rainforest canopy before descending through the canopy layers and deep into the heart of the forest at Skyrail's two rainforest mid-stations for the ultimate tropical rainforest experience.
The Skyrail Rainforest Cableway gives you the ultimate birds eye view of some of the most beautiful rainforest this region has to offer!
With

The skyrail experience Features:
Smithfield Terminal: Skyrails Caravonica Terminal is located just 15 minutes from Cairns and 50 minutes from Port Douglas and provides a convenient embarkation or disembarkation point.
Red Peak Station: As you approach your first rainforest mid-station, Red Peak, your gondola will descend through the canopy layers and take you deep in the forest.
Barron Falls Station: On approach to Barron Falls Station you will enjoy spectacular views of the Barron Gorge, a deep chasm lined with dense rainforest vegetation.
Kuranda: From Barron Falls, your Skyrail experience continues through the mountains before gliding over the mighty Barron River and arriving at Skyrails Kuranda Terminal.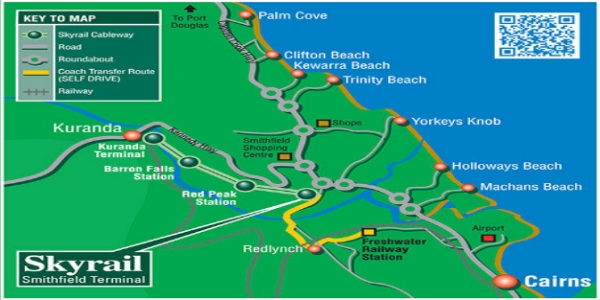 Skyrail Cableway Facts
The cableway is 7.5 kilometres (4.7 miles) long.
It has a total of 114 gondola cabins, each capable of seating 6 passengers, providing a carrying capacity of 700 passengers per hour in each direction.
The cableway can operate at a speed of five metres per second (18 kilometres per hour, or 11 miles per hour); however its normal operating speed is much slower to provide guests with the maximum time to enjoy their rainforest experience.
There are 32 towers in total. The highest tower is 40.5 metres (133 feet) high.
Red Peak is Skyrails highest station at 545 metres above sea level (1,788 feet). The Kuranda Station sits at 336 metres (1,100 feet) and Caravonica Terminal is only 5 metres above sea level (16 feet).
The steepest section of the cableway has a slope of 19 degrees.
Skyrail Rainforest Cableway has 15 kilometres of 40.5mm galvanised steel rope weighing more than the equivalent of 100 sedan cars.
There is a multi-core communications cable which runs in the middle of the towers, between the two lines of haul rope. This carries all the voice and safety circuit communications.
The cableway is driven by a 383kW (500hp) D.C Electric Motor located at each drive station, the Kuranda and Caravonica Stations. Each drive station has a back-up diesel motor and a further auxiliary Hydrostatic Drive.
BOOK WITH US TODAY! CALL 1800 550 751 OR (07) 4914 2425 IF LOCAL
What's Included
Transfers and Tickets all included
What's Extra
Lunch not included
Terms and Conditions
All departures and itineraries are subject to weather. Tours may be changed or cancelled for any reason at the discretion of the Tour Operator.
It should be noted that adventure travel involves risk. Whilst we make every effort to safeguard clients, we cannot be responsible for personal injury or loss due to actions of our clients which are beyond our control.
We recommend that all clients have travel insurance covering illness, injury, loss or damage to personal belongings and not being able to travel
on the confirmed date of departure. Please be aware operators pass on credit card merchant fees so there is a non-refundable 2.5% surcharge for VISA, MASTERCARD and AMEX card purchases.
Cancellations
All client cancellations forfeit 25% of total ticket price and all client cancellations made less than 21 days prior to departure will result in complete forfeiture of the full price of the trip.
If the company has to cancel the trip (prior to departure) and we cannot offer a suitable alternative, then a refund will be given minus card fees.
We strongly recommend that you have travel insurance, especially during the wet season.
Thank you for booking with Mr Travel. If you would like any advice or assistance in arranging accommodation, transfers or additional tours, please do not hesitate to contact us.